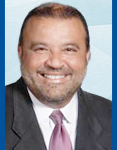 Azeezaly Jaffer-owner of BJGE LLC serves as a thought leader and expert consultant advising government and private sector clients on all aspects of Public Affairs and Strategic Communications issues. Jaffer brings a well-rounded background and 45 years of senior level experience with the Federal Government beginning with the National Aeronautics and Space Administration (NASA) and a veteran of the United States Postal Service (USPS). Following his retirement in 2006, Jaffer has remained active consulting clients on all aspects of strategic communications. And in 2009, he embarked on a different career path and now also serves as a general contractor specializing in home renovations.
Jaffer spearheaded key postal innovations and initiatives that broadly covered all aspects of USPS operations. In 2001, at the height of the Anthrax attacks, Jaffer served as a principal advisor to the leadership team and spokesman to help raise awareness and educate consumers and business on the continued safety and sanctity of the mails. Jaffer managed an interagency working group consisting of the Department of Homeland Security (DHS), Health and Human Services (HHS), Center for Disease Control (CDC), Federal Bureau of Investigations (FBI) as well as the White House's Office of Science and Technology that helped facilitate a coordinated approach in restoring confidence in the US Mail.
Earlier, Jaffer directed the US Stamp Program with oversight for design, development, acquisition, delivery and distribution of stamp and related products to a network of 35,000+post offices. Under his leadership, annual revenues sales more than quadrupled to $400 million a year. Previous to his Stamp Services tenure, Jaffer was the Director of External Communications and key accomplishments include negotiating and implementing The Olympic Games Sponsorship for Albertville, France and Barcelona, Spain in 1992.
Jaffer has received numerous professional awards, particularly in recognition of outstanding work during the 2001 anthrax crisis and subsequent mailbox bombings. These awards include the 2003 International Public Relations Association Golden World Awards for Excellence, the 2003 Public Relations Society of America's (PRSA) Silver Anvil award for "Managing Communications during the Anthrax Crisis," the 2003 "Best of the Best" Silver Anvil, and in May 2003, the Gold SABRE awarded to the Postal Service and Jaffer by senior industry public relations professionals. Also in 2003, the Postal Service and Jaffer received a first-place award from the National Association of Government Communicators and were recognized by PRWeek, receiving the Crisis/Issues Management Campaign of the Year award. In September 2002, the Postal Service and Jaffer were recognized at the PRSA annual Thoth Awards for Excellence in Public Relations. In October 2003, Jaffer accepted the American Stamp Dealers Association Man of the Year Award. And in 1991 he was the recipient of the Postmaster's General Award for his communications achievements.
Jaffer began his government career as a Presidential Management Intern in 1978 with NASA. After a distinguished career in Public Affairs, Jaffer joined the USPS in 1986. He holds a Bachelor of Arts degree in Public Affairs and a Master of Science degree in Public Administration from the University of Southern California. He and his wife reside in Vienna, Virginia and Omaha Nebraska.